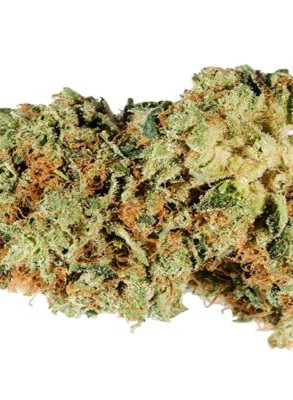 Point Break is an indica dominant hybrid created by crossing the delicious Tropicana Cookies and Trophy Wife strains. Named for the famous film, Point Break packs a lifting and full-bodied high that will have you feeling energized before helping you settle down and get to sleep.
The effects come on fairly quickly, filling your brain with a euphoric sense of lifted energy. You'll feel creative and motivated, ready to tackle any creative task at hand. As your mind lifts, your body will start to settle further and further into the couch with a heavy and stoney sense of relaxation. This soothing sense will soon work its way throughout your entire body, leaving you fully sedated and pretty sleepy.
This bud has a sweet and sour vanilla citrusy flavor with touches of woodiness upon exhale. The aroma is very sour and citrusy with punches of sharp tangerine accented by woody pine and fresh earthiness. Point Break buds have oversized heart-shaped dark olive green nugs with dark purple undertones, thick dark amber hairs and a coating of tiny, frosty white crystal trichomes.
Details
Versions
Version
Price
Quantity
Action