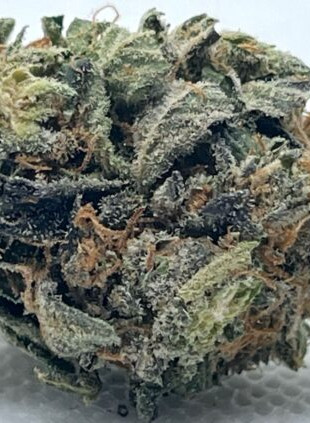 Black Star is a perfectly balanced hybrid (50% indica/50% sativa) strain that was created by breeders at the infamous Healing Canna farms in Colorado Springs. This dank bud is a potent cross between the insanely popular The Black X and Voodoo Star strains and was named after the 90s hip-hop group made by Mos Def and Talib Kweli.
Black Star boasts an average THC level ranging from 18-22%, with a taste of sweet herbs and an aroma of sweet hashy herbal tea. The Black Star buds have round, thick voluminous nugs that are a dark earthy green with deep purple undertones and leaves. These nugs are caked in a layer of fine trichomes and a spattering of thick dark orange hairs.
Users describe the Black Star high as a heavy mind and body high that leaves you relaxed, lethargic, and at ease. This long-lasting potent high will give you significant mind and body relief, leaving you completely relaxed with spacey tendencies and a mild case of the munchies. Due to these effects, Black Star is perfect for treating chronic pain, stress, and migraines.
Details
Versions
Version
Price
Quantity
Action