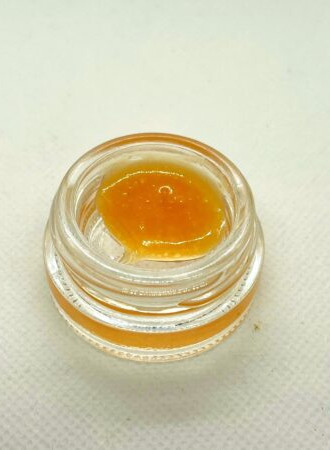 Pink Kush Live Resin is made using fresh frozen flower to preserve the full flavour of the terpenes. This top tier concentrate allows the strain to retain the delicate terpenes, cannabinoids and essence of every phenotype and strain-specific flower that is extracted. We assure you, these tiny terpene soaked crystals make for an unparalleled dabbing experience!
Visually the product resembles a soft caramel colour with hints of crystal. Not really a sugar, granular-like consistency, but more of a soft wax. Just one hit is usually enough to get you through a two and a half hour ride on the Pink Kush Coaster.
The flavor and aroma of the product's floral base contains pungent notes of pine, wood, vanilla and flowers. Connoisseurs will most definitely appreciate the extreme clarity of these notes due to the extremely clean extraction method.
In fact, you can actually taste how the process captures the aromatic essence from the Pink Kush flower while enhancing the strains already potent effects. In its intact state, this live resin emits subtle, sweet notes. When dabbed you can taste the sweet candy sugar right away followed by sweet floral and cotton candy notes on the exhale.
Heat up your rig and take a hit of the Pink Kush Live Resin, but keep the temperature on the lower end of the scale to taste the floral flavours. Once they've mellowed out an earthy perfume will linger while the indica effects work to help you unwind.
Details
Versions
Version
Price
Quantity
Action